INTRODUCING… THE INDEPENDENT VANGUARD ADVISER:   
How to Maximize Your Vanguard Returns and "Recession-Proof" Your Retirement
Unlock your Vanguard portfolio's full long-term profit potential with the only independent resource that's delivered market-beating results to thousands of people over 30 years.
Independent analysis on 100+ of Vanguard's top funds
5 profitable Model Portfolios for any risk level
Exclusive access to fund manager interviews
Time-saving weekly analysis
And much more!
"Thanks for the solid and helpful content at a time when snake oil is readily available everywhere I look." -Tony
"I have been following your newsletter and advice for more than 15 years." -Lori R.
"You are my lighthouse when it comes to Vanguard."–Jeffrey J.
Dear Vanguard Investor,
Vanguard mutual funds and ETFs are the most incredible wealth-building vehicles available for everyday Americans.
But to get the best results:
It's NOT as simple as just buying their cheapest or most popular funds.
Diversification is essential
Low fees can't turn a bad fund into a winner
And short-term success doesn't guarantee long-term profits
That's why, to help you make more informed decisions, The Independent Vanguard Adviser analyzes hundreds of Vanguard funds every month.
Simply read this short page to get started and learn why you should subscribe to The Independent Vanguard Adviser.
We'll help you:
Invest with the confidence of an expert… knowing exactly which funds to avoid and which to invest in…
Stay focused on your long-term goals… and never fall victim to the fear of missing out on the market's latest "must-have" investment…
Make the most of your Vanguard investments … while staying informed on the latest developments within Vanguard the company.
Here's proof our research truly works:
We've Helped Over Tens of Thousands of Vanguard Investors Beat the Stock Market Since 1991
Our Aggressive Portfolio outpaced the stock market by 1.0% yearly since 1991 with the same risk.
It may not sound like much, but over three decades:
That's a total return of 3,244%… versus 2,406% from the stock market!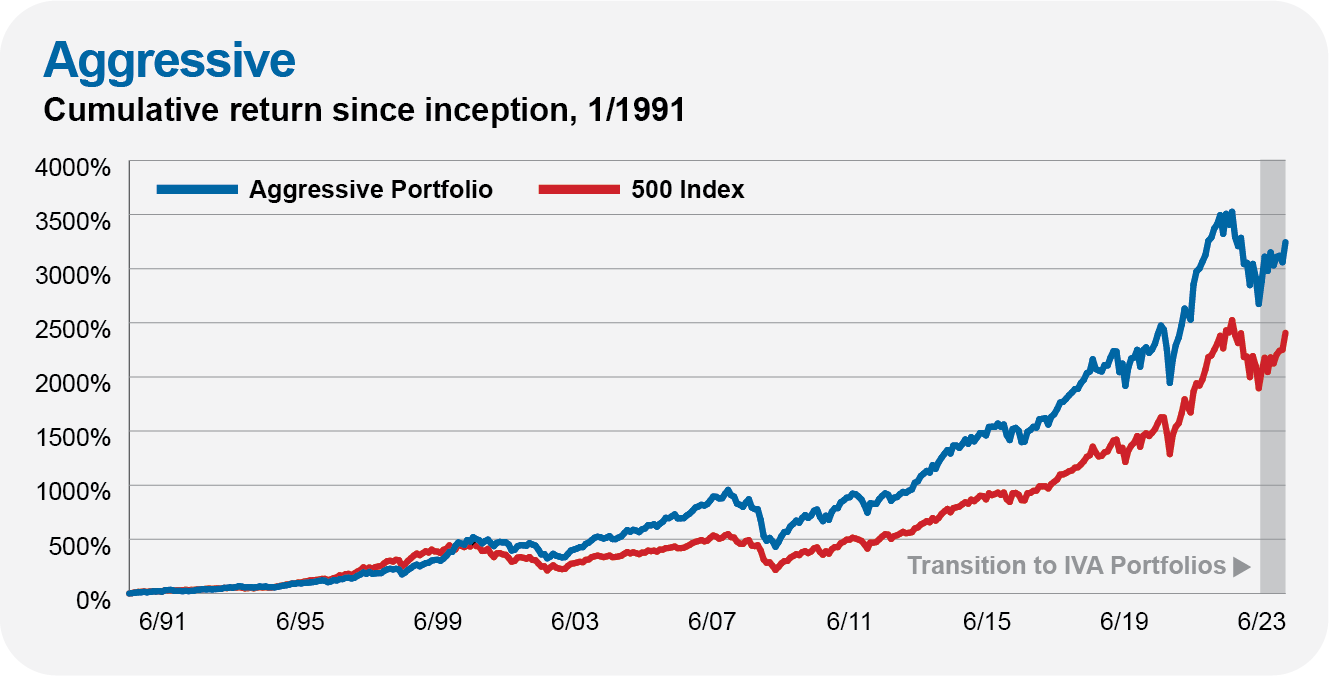 Beating the index means different things to different people.
Maybe for you it would mean an earlier retirement.
Or more time for family, travel, hobbies, and personal growth.
Whatever your dream outcome looks like… these extra returns would've made that dream more likely to become your reality.
Then there's our Growth Portfolio:
Which matched the market while taking on less risk!
And the Moderate Portfolio—our take on the classic 60% stock and 40% bond portfolio—outpaced Vanguard's LifeStrategy Moderate Growth fund!
Now keep in mind:
These market-beating results include the dot-com bubble, 2008 financial crisis, 2020 crash, and 2022 bear market. No cherry-picking here.
And this reliable performance is a large reason why our work has been featured in The New York Times, Barron's, and Kiplinger, to name a few.
For example:
Our readers following the Aggressive portfolio earned an 11.4% annualized return since 1991.
Meanwhile, the average Vanguard investor only earned 7.4% a year.
In other words, since we started analyzing Vanguard in 1991, our subscribers …
Beat the Average Vanguard Investor by 54%!
That Could be the Difference Between an Extra $10,000 or $100,000 in Your Pocket
Take a look at the results below: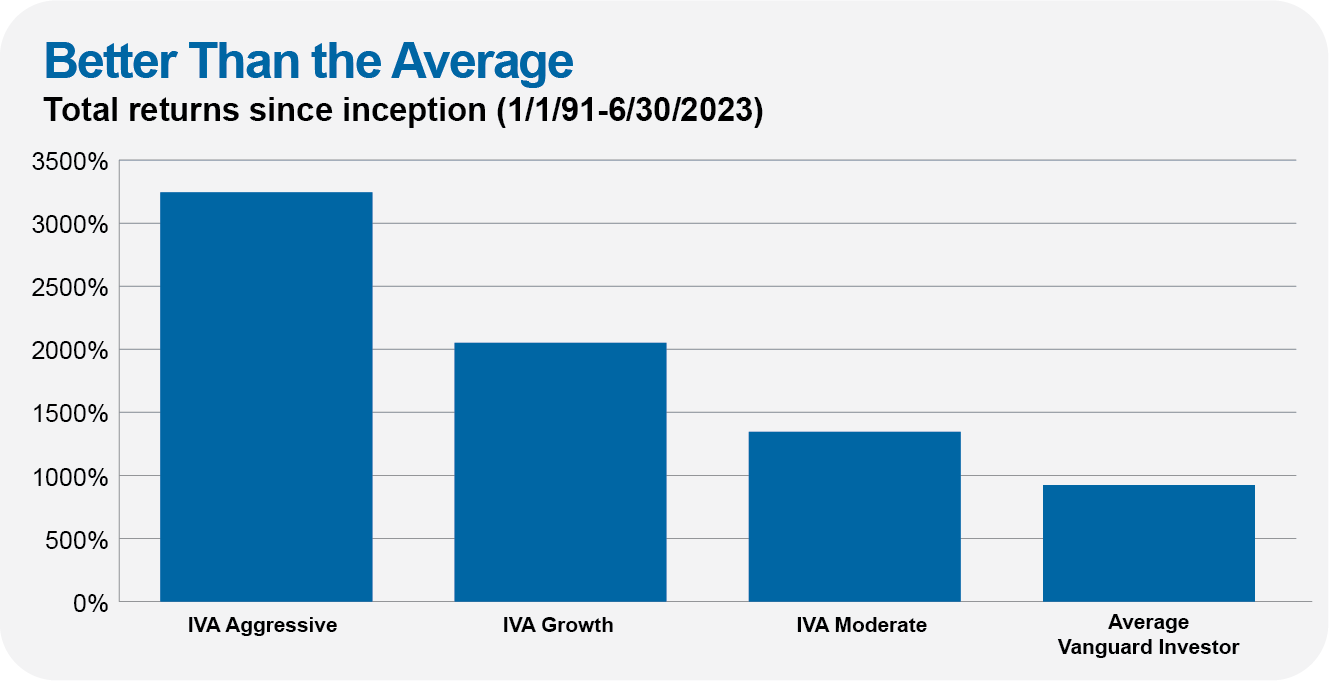 Imagine that:
The difference between a worried retirement spent penny-pinching or a secure future with plenty in the bank to spare.
Simply put—if you are looking for a way to improve your Vanguard investment returns, The Independent Vanguard Adviser is for you.
See, you can either do all the work researching and analyzing these investments yourself, which will eat up most of your free time.
(And even still, you wouldn't have exclusive access to fund managers.)
Or you can rest assured you're following the best unbiased, independent guidance possible with our Model Portfolios.
We are very selective in the funds we recommend. When analyzing funds, we ask ourselves:
What's the actual performance over time? Don't be deceived by short-term results. We analyze performance and risk across various market cycles to provide a comprehensive view. This allows us to identify funds that have consistently delivered solid returns over the long run.
Are the fees worth it? Low fees are crucial, but it's important to understand what you're actually paying. Even seemingly "low-cost" funds can be too expensive. We help you navigate the fee landscape, ensuring you make informed decisions that align with your financial goals.
Is the management team trustworthy? Investing in an actively managed fund means partnering with a manager. We delve into their track record, evaluating their expertise and understanding their competitive edge. Furthermore, we examine whether they have a personal stake in the fund, aligning their interests with yours as a shareholder.
Plus, much more.
Which is why we can make the following promise:
Use our Vanguard Model Portfolios and you will feel far more confident about achieving your long-term investment goals.
And now's your best opportunity to enjoy these results!
But before we dive deeper into what's included with the service, and the special offer, I'd like to introduce myself:
---
Who Am I? And Why Should You Listen to Me?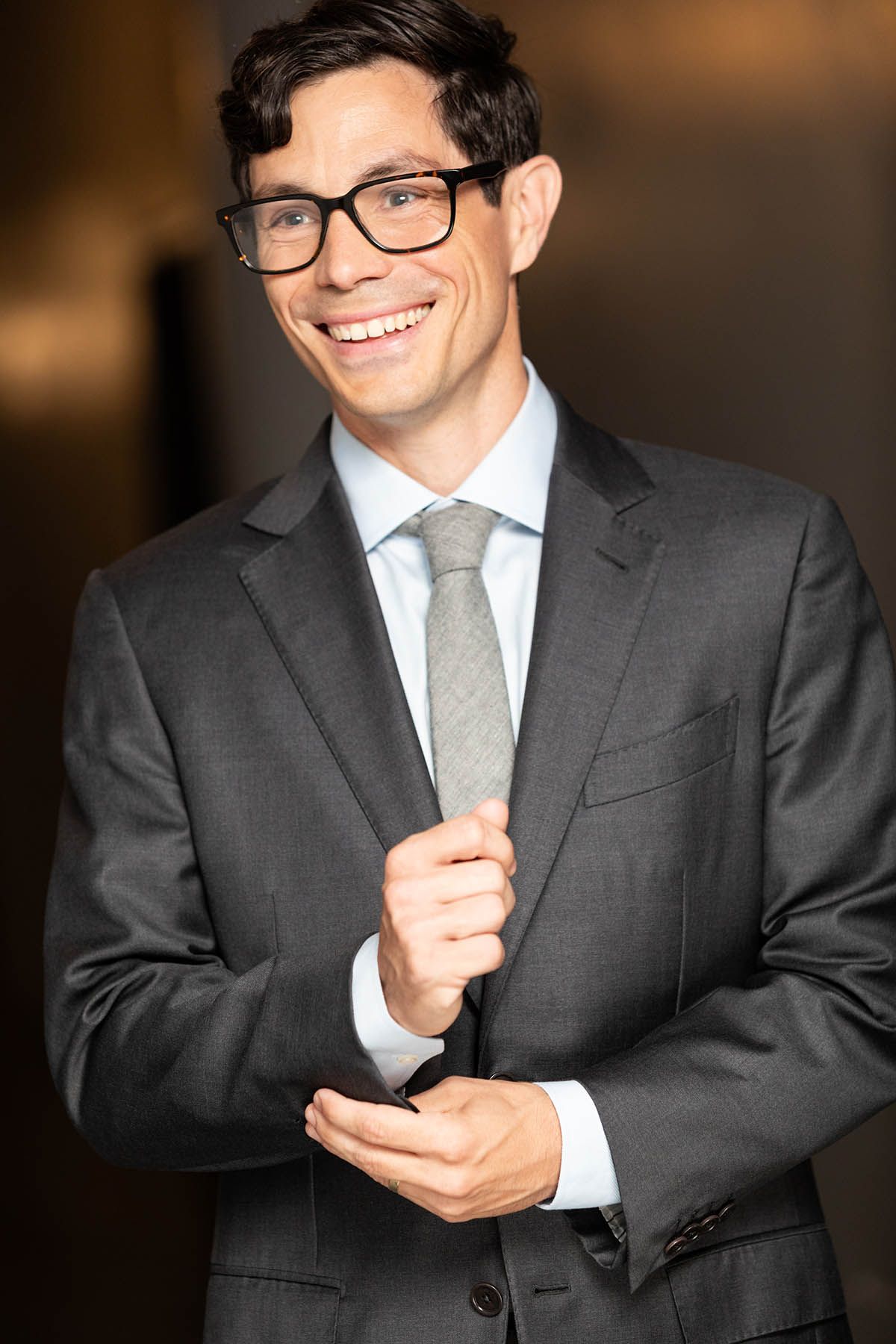 Hi, I'm Jeff DeMaso.
I'm the former director of research at a multi-billion-dollar investment firm.
For over 10 years I wrote the world's leading independent Vanguard newsletter with my good friend and mentor Dan Wiener.
Our work provided practical investment advice while demystifying the markets and economic mumbo-jumbo—in a readable, understandable way.
By refusing to make false promises, we earned a reputation for providing honest advice that real investors could rely on.
Last year, Dan passed the torch to lead and build on a 30-year history as an independent, honest voice on all things Vanguard.
And I promise to continue the tradition and do it in a language you can understand and in a way that you, your family, and your friends can follow.
In fact, I invest in the same funds I recommend to all my subscribers!
I'm proud of our results —which have been life-changing to many.
That's why I hope you'll join the thousands of independent Vanguard investors who've benefited from my research, analysis, and advice.
Here's what I think you should focus on:
Invest for Your Future: Don't Get Caught Up in the Short-Term
It does NOT matter what your portfolio looks like today. It only matters what you want your results to look like over the next five to 50 years.
Want to build wealth over the long term?
You don't need to be rich. You don't need to be a genius like Warren Buffett. And you don't need the connections of a Wall Street trader.
What you need is to spend time in the market, rather than trying to time the market.
Because the stock market's history is clear:
Optimists triumph over pessimists.
Full stop.
$1 invested in Vanguard's flagship 500 Index fund in 1976 would be worth $145 today.
That's despite numerous bear markets, inflation, deflation, higher (and lower) interest rates, recessions, wars, pandemics, and other crises.
Of course, I understand you may not have 50 years to watch your money compound — or, even if you do, you probably don't want to wait that long.
That's why The Independent Vanguard Adviser exists.
To provide accurate, practical advice for long-term Vanguard investors to generate better results today… such as:
Identifying bond funds that beat Vanguard's bond market indexes
How a handful of international funds can boost your returns
Tricks for adding "closed" funds to your portfolio, plus several alternatives
AND MUCH MORE!
On this page, you can try everything without paying a cent.
I'll explain how in just a moment.
FULL DISCLOSURE:
The Independent Vanguard Adviser is NOT for Everyone
It's FOR you if:
You're tired of the sales pitches from traditional financial advisors.
You're a busy professional who wants to stay on top of your finances and make informed investments, but you don't have time to spare.
You're an experienced DIY investor who wants to learn more about Vanguard funds and strategies and needs an unbiased resource.
You're a new investor who wants to make sure you're making sound financial decisions that will set you up for success in the long run, and you're willing to put in the time and effort to learn about investing.
You're retired and living on a fixed income, and you need a way to get the advice you need to maximize your returns without breaking the bank.
It's NOT for you if:
You're looking for a magic bullet that will make you rich.
You're not willing to put in the time to learn and grow as an investor.
You frequently buy newsletters or online education only to "go through the motions" and not put the principles into practice.
You believe that you're not good enough to be successful in investing.
You're not willing to take responsibility for your financial future and chalk up all success to "dumb luck."
---
Here's What People Are Saying About The Independent Vanguard Adviser
We have become Vanguard Flagship members because of your accurate advice.
"I first subscribed to your service in April, 2000. Over the next two years, I moved all of our mutual funds to Vanguard and invested in your recommended portfolios. Our regular funds were invested in the Aggressive Growth Portfolio and our IRA funds were invested in the Income Portfolio. We have diligently followed your weekly portfolio changes over the years. Your outstanding and accurate advice has enabled us to become Vanguard Flagship members for quite a few years now. Keep up the excellent service." - Earl & Donna C.
I'm very glad you've continued the service
"I'm very glad you've taken over from Dan. All of us long-term Vanguard investors need continued guidance going forward so we can stay invested in the Vanguard funds that will do reasonably well for us." - Walter W.
Reversing unwise money choices with this publication.
"My great uncle is one of the smartest investors I know and he recommended your publication years ago, he has been a loyal subscriber for a long time. I on the other hand have made some unwise money choices. My great uncle gave me a publication to read, I enjoyed it very much and have been a subscriber myself for several years." - Craig S.
Looking after Mom's finances
"Long term sub, looking after his mom's finances. Can't thank you enough for the advice you've provided over the years. I like that you ate the same meals that you're preparing for your subscribers." - David H.
Felt lost without this newsletter.
"I really am thrilled that you're still publishing. I felt lost making investment decisions without your newsletter. I still have your last few newsletters stacked up in my family room and this morning re-read the last one that said you were planning 'next steps.' So I poked around online and there you were! I don't know how I missed the 'next steps' news before. Thanks for your help today. And yesterday and tomorrow." – Jackie W.
Subscriber for 20+ years
"Keep up the good job you all have done for me for 20+ years!" – Bob P.
---
Here's the Full List of Benefits You'll Enjoy as a Subscriber
Access to 5 (profitable) model portfolios for any risk level!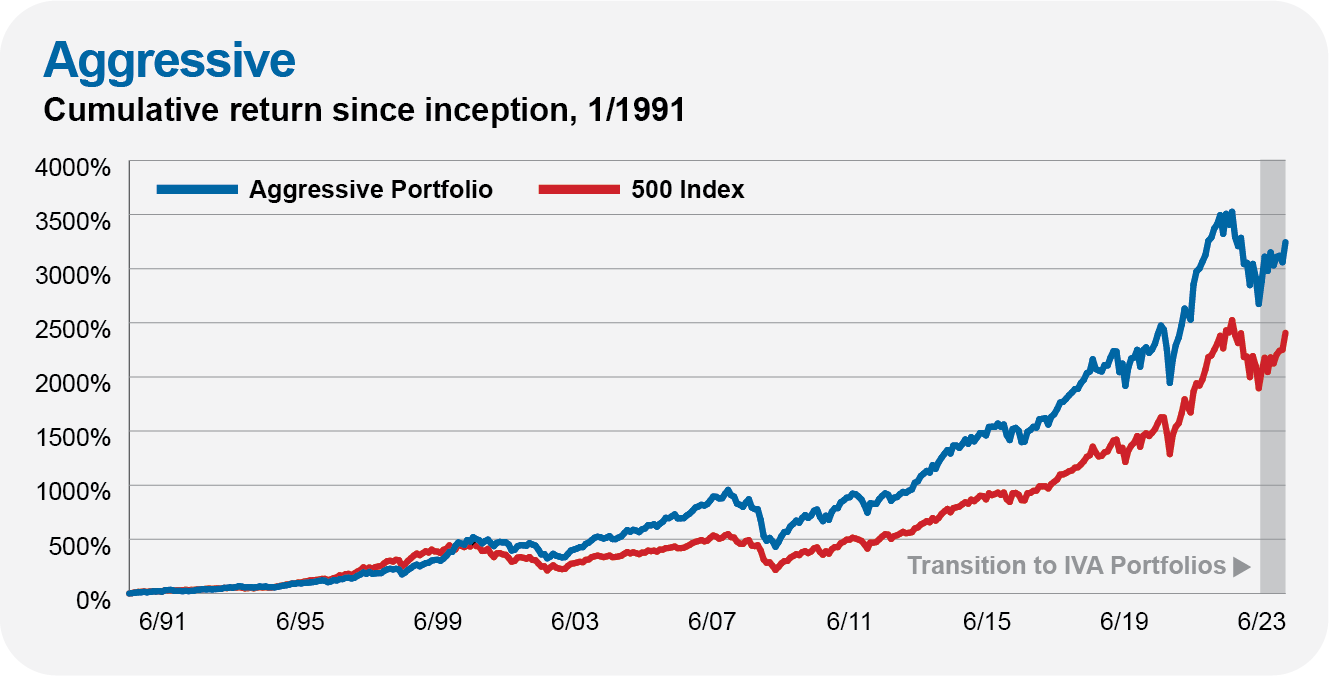 The Aggressive portfolio: for investors with long time horizons who can withstand the full ups and downs of the stock market. Up 8.6% in 2023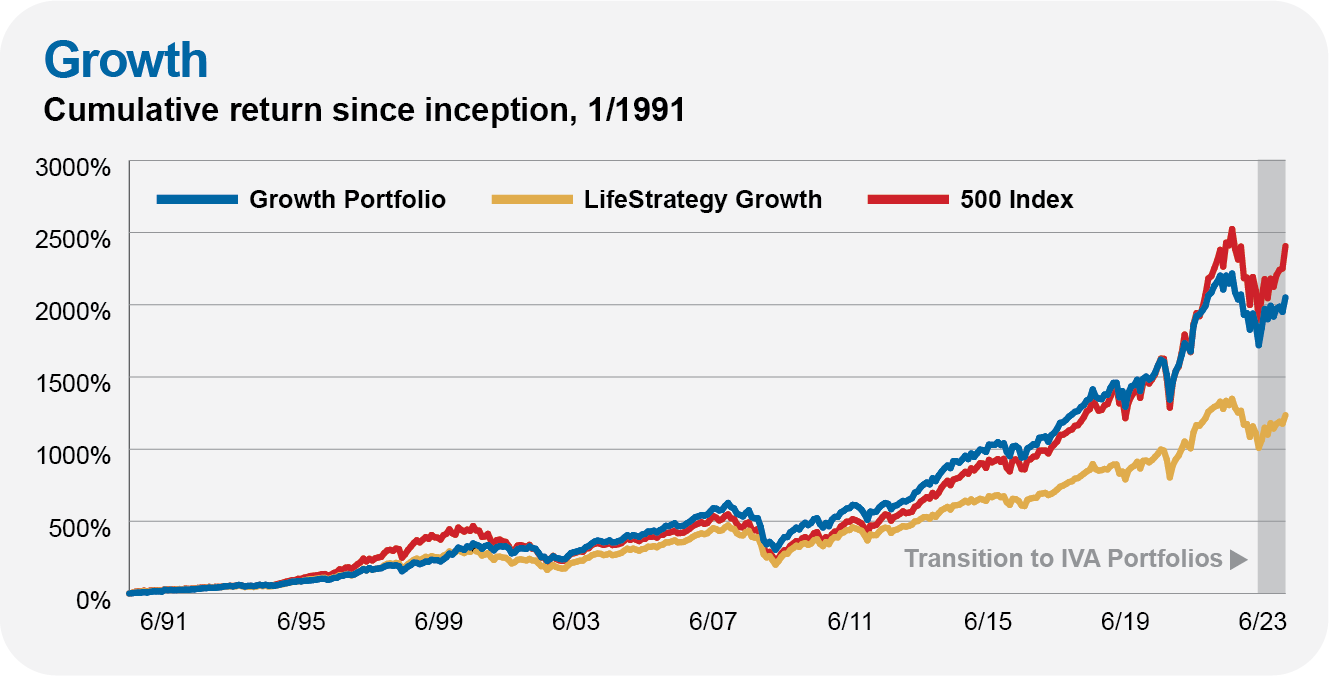 The Growth portfolio: for investors whose priority is capital appreciation but who don't want to be fully exposed to the swings of the stock market. Up 7.5% in 2023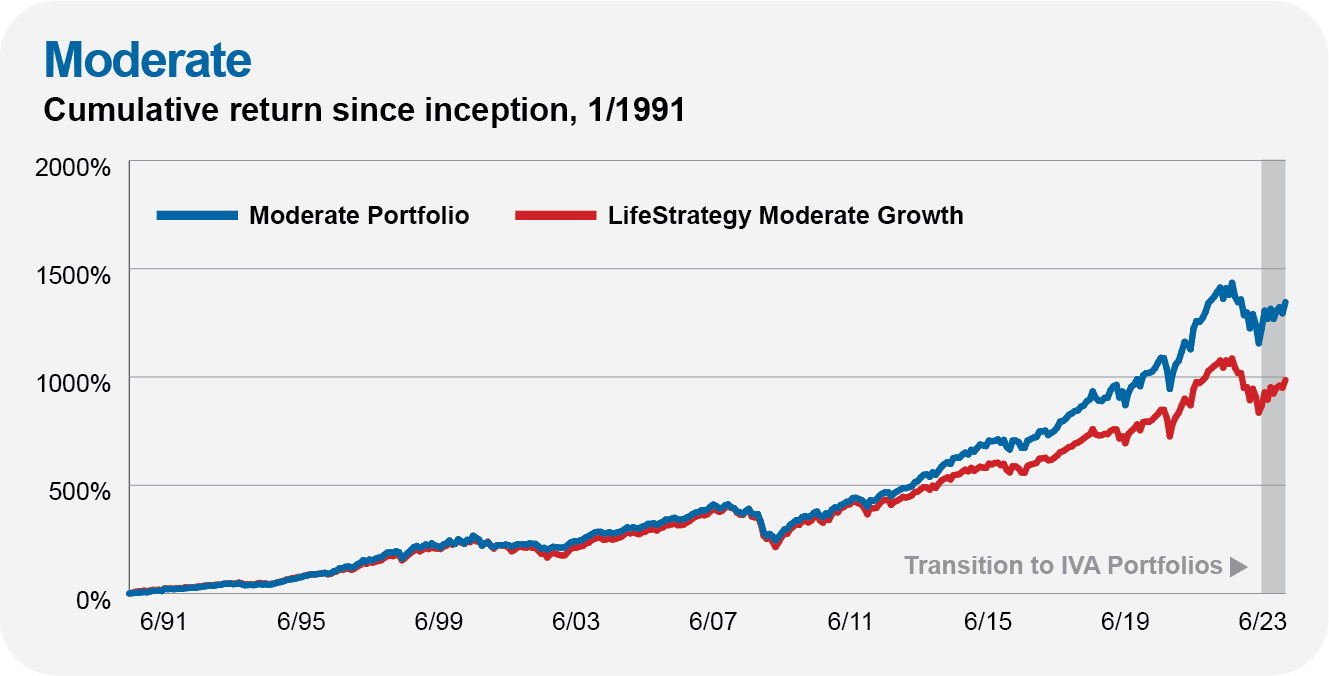 The Moderate portfolio: for investors looking for a balance between growth and income with a balanced portfolio of 60% stocks and 40% bonds. Up 5.6% in 2023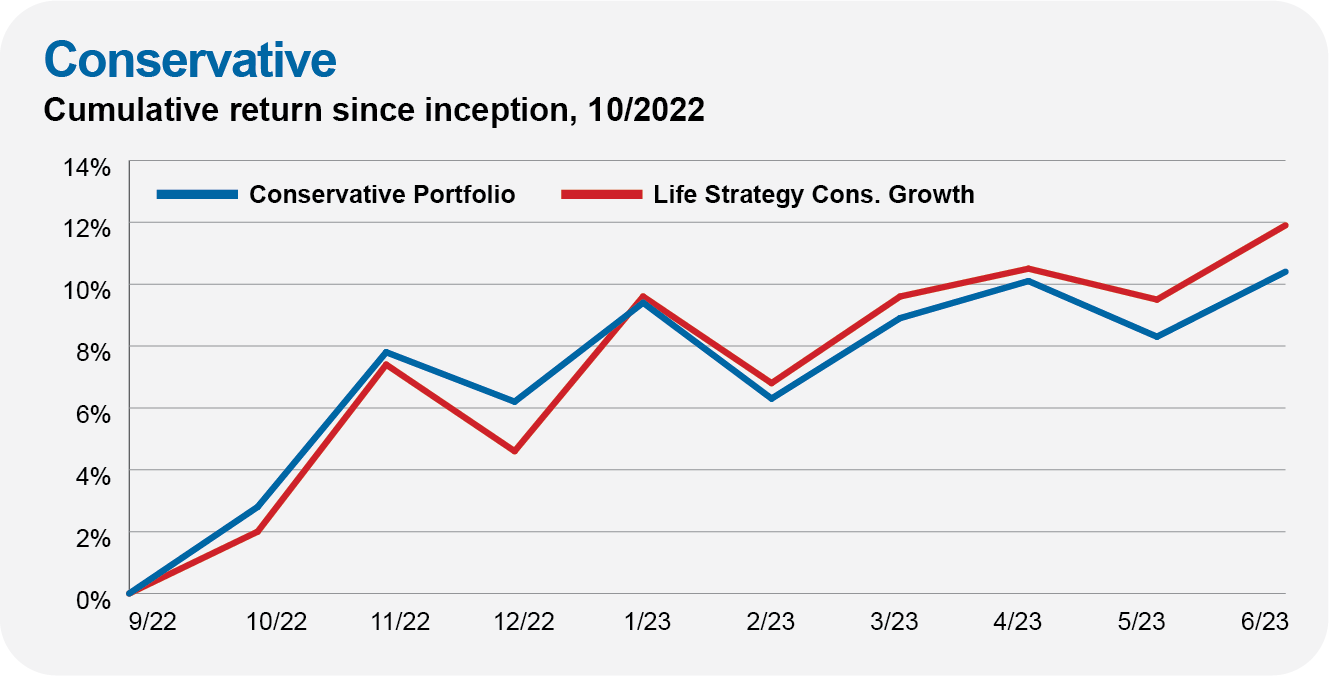 The Conservative portfolio: launched in October 2022 for investors whose priority is income while maintaining some opportunity for capital growth. Up 4.0% in 2023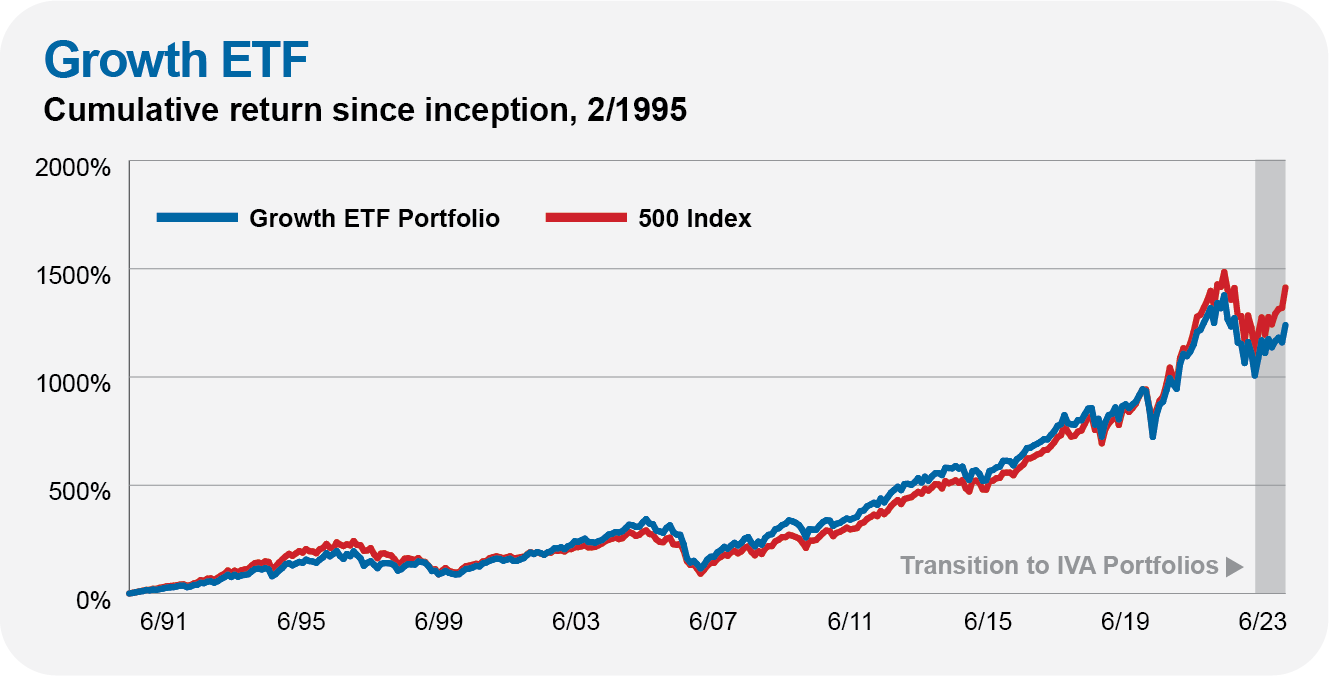 The Growth ETF portfolio: for investors with long time horizons who can withstand the entire ups and downs of the stock market but who wish to utilize ETFs or index funds exclusively. Up 10.6% in 2023
Over 100 buy, hold and sell ratings on Vanguard's funds and ETFs … plus the return, risk, and yield data you need to make your own investment decisions!

As unbiased observers, we'll tell you "what's what" at Vanguard.

No matter how inexpensive it is to invest, if you don't know what you're doing, it's too expensive.
That's why I'll keep you informed every week with thoughtful, contextualized insights on Vanguard and the markets.
The good and the bad are updated every month for use as an easy reference.

Weekly original analysis on Vanguard, the economy, exclusive fund manager takes, and more!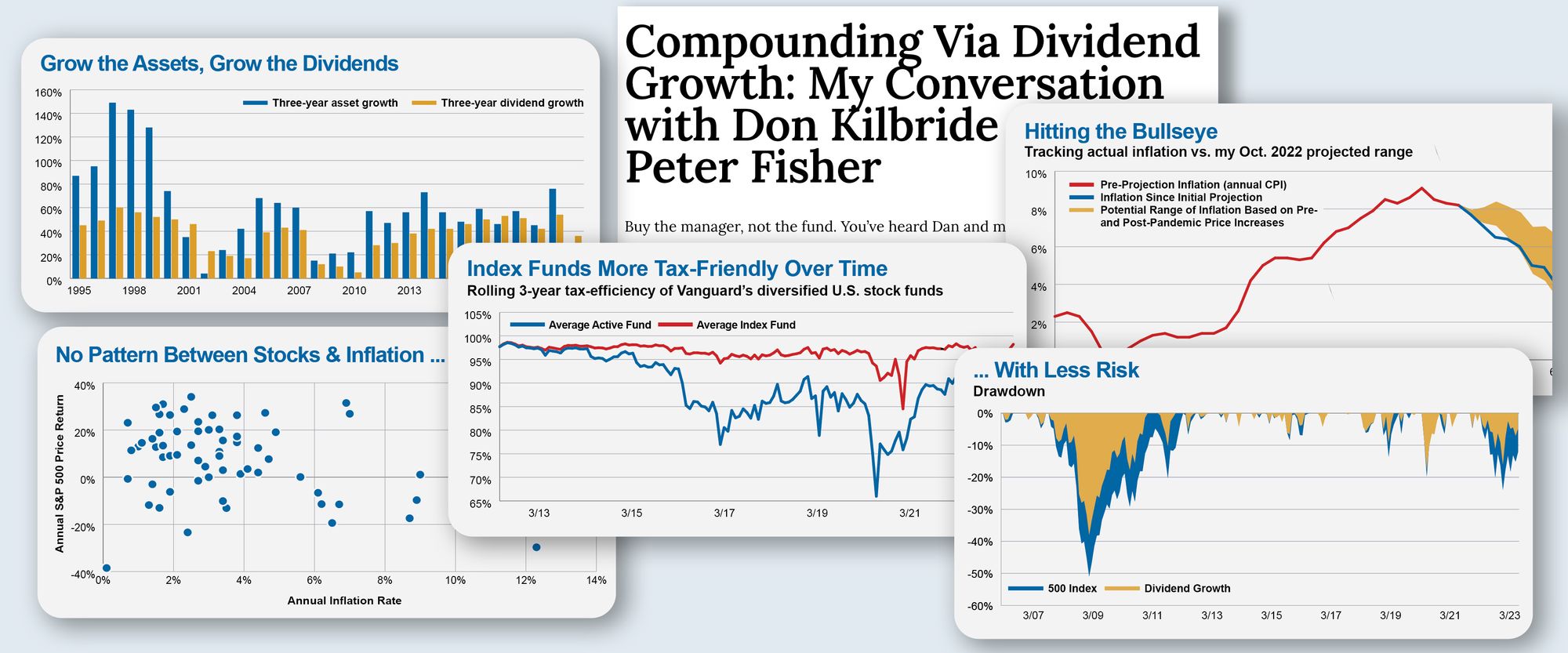 I write this newsletter to provide the information, updates, insights, context, and advice I want my friends and family to have.
And I do it in a language that's accessible and understandable.
No get-rich-quick schemes. No baffling with bulls%!#. No snake oil.
Simply open your email inbox for the latest reading experience, or access all of the articles on the website.
Trade alerts that tell you exactly what to do and when.
Any time a move should be made in your portfolio, I'll inform you as quickly as possible.
Of course, Trade Alerts won't come so frequently, as my focus is on long-term time spent in the markets.
Chasing every piece of "breaking" news or every "hot tip" is not a reliable investment strategy.
Remember, spending time in the market is our recipe for long-term investment success that anyone can follow. It's not flashy, but it works.
Exclusive premium access to The Independent Vanguard Adviser website and priority customer support
Access the archives of past issues dating back years as well as the newest information and portfolios all in one place.
Plus, enjoy priority support.
While I can't provide personalized investment advice, I work overtime to clear up any confusion or concerns you have about Vanguard and my service.
---
What's the Price to Join The Independent Vanguard Adviser?
I've helped my subscribers generate bigger returns from their Vanguard investments with greater peace of mind.
Sure, I could tell you all about the subscriber who managers his mother's money with this service or the CNBC star who tracks our recommendations assiduously, but here's the bottom line: I eat my own cooking.
As I mentioned at the start, I personally invest in the Model Portfolios I send to my subscribers… no double standards here!
I invite you to restructure your long-term Vanguard portfolio to generate more returns.
Plus, "borrow my brain" and get exclusive fund manager access with my weekly analysis.
This service is the only way to take advantage of my Vanguard expertise.
That's why, in the tradition of making The Independent Vanguard Adviser accessible to anyone looking to maximize their returns:
Rather than charge an arm and a leg for access today…
The Independent Vanguard Adviser is only…
➢$175/year
And you also receive a:
30-DAY FREE TRIAL
When You Join Today
I'm so confident you'll love being a member that I'm going to give you 30 days to try before you buy.
Here's how your free trial works:
Today Unlock unlimited access to The Independent Vanguard Adviser including all five model portfolios, 100s of fund reviews, trade alerts, and more.
Day 23 Get a reminder when your free trial will end with easy cancel instructions if you're not thrilled with the service.
Day 30 You'll be charged $175 for a 1-year subscription — cancel any time prior.
That means you'll see for yourself if The Independent Vanguard Adviser is for you.
You'll see for yourself how much your portfolio can improve with access to my model portfolios and in-depth research.
You'll see for yourself why thousands of Vanguard investors trust this service.
And you won't be charged a penny until your free trial is complete!
Look, I told you from the start:
I'm not a fan of the fake deadlines, urgency, and fear of missing out (FOMO) in the marketing tactics other publishers use.
There's no money commitment to try everything for the next 30 days.
You get free, unlimited access to the entire service.
Then, if (and only if) you're 100% thrilled, you'll be charged.
I don't see how it can get any better than that.
Simply click the button below to go to the secure checkout page and start your 30-day free trial.

I look forward to welcoming you as our newest member.
Sincerely,


Jeff DeMaso
The Independent Vanguard Adviser
---
Frequently Asked Questions
Q: What is The Independent Vanguard Adviser?
A: The Independent Vanguard Adviser is an online newsletter that provides actionable investment advice and financial education to help you achieve your long-term financial goals.
Q: What is included with a subscription?
A: As a subscriber, you will gain access to five model portfolios, ratings (buy, hold, and sell) on over 100 Vanguard funds and ETFs, weekly analysis and updates, trade alerts, exclusive access to the website and priority customer support.
Q: Who is Jeff DeMaso?
A: Jeff DeMaso is the former research director at a multi-billion-dollar investment firm and the current leader of The Independent Vanguard Adviser.
He has a proven track record of providing independent and honest investment advice, and his work has been featured in reputable publications like The New York Times, Barron's, and Kiplinger.
Q: Is The Independent Vanguard Adviser suitable for everyone?
A: This service is not for everyone.It's for retirees, busy professionals, beginner investors, or DIY investors looking for an independent resource on all things Vanguard.
You should also be ready to use this information immediately to maximize your portfolio returns over the long term.
Also, if you're open to new ways to view Vanguard investments and the market as a whole, that's a great sign this service is for you.
With that being said, The Independent Vanguard Adviser is NOT suitable for people who:
Buy newsletters or online education only to "go through the motions" and not apply the principles or do the work.
Are only looking for the next "get rich quick" opportunity.
Believe it's impossible to achieve better results with their Vanguard investments, and the only people who can are "lucky."
30-Day Free Trial Guarantee
Enjoy 30 days FREE and only pay after the trial expires.
It's the best offer available. Please try The Independent Vanguard Adviser with no obligation at all for a full 30 days without paying a cent.
You'll get access to everything we do immediately after signing up, including access to all the Model Portfolios, which have beaten the average Vanguard investor over the long run.
These are the same funds I investment my and my family's money in.
Also, please go through all the research, analysis and education. If you're not thrilled for ANY REASON during your free trial period, you can easily cancel on the website—you won't be charged a cent.
I'm that confident that you'll fall in love with The Independent Vanguard Adviser. Welcome to the family!

Jeff DeMaso
Q: What are the Model Portfolios?
A: The service provides access to five Model Portfolios: Aggressive portfolio, Growth portfolio, Moderate portfolio, Conservative portfolio, and Growth ETF portfolio.
Each portfolio is designed to meet different risk levels and investment objectives.
I eat my own cooking and invest in the same funds that I include in the Portfolios.
Q: How often will I receive updates?
A: You will receive weekly updates and analysis on Vanguard, the economy, exclusive fund manager takes, and more.
Additionally, you'll receive a monthly round-up of the topics we covered.
Q: Is personalized investment advice provided?
A: No. I do not provide personalized investment advice.
However, I aim to deliver valuable insights, recommendations, and analysis to help you make informed investment decisions.
Q: What is the cost of subscribing?
A: The annual subscription cost for The Independent Vanguard Adviser is $175. This provides access to all the benefits and resources mentioned, including the model portfolios, research, and weekly updates.
But when you join today, you get 30 days of free unlimited access.