Hello, this is Jeff DeMaso with the IVA Weekly Brief for Wednesday, November 15.
There are no changes recommended for any of our Portfolios.
I've said it before, and I'll say it again: Day trading is hard. Yesterday serves as just the most recent example.
Traders sent both stock and bond prices soaring in response to lower-than-expected inflation. The narrative traders bought into was that lower inflation meant the Federal Reserve was done raising interest rates.
It was a good day in the markets. 500 Index (VFIAX) gained 1.9%, and SmallCap Index (VSMAX) returned 4.5%. Total International Stock Index (VTIAX) gained 2.4%. Real Estate Index (VGSLX) jumped 5.6%.
Bonds got in on the action, too. As the yield on the 10-year Treasury fell from 4.63% to 4.44% yesterday, bond prices rose. Total Bond Market Index (VBTLX) gained 1.1% on the day and is now up 0.6% on the year.
Let's put it this way: Only one fund in Vanguard's stable lost money yesterday: Market Neutral (VMNFX) was off 0.6%.
If you're a day trader, yesterday was a "big" day—you needed to be in the market and on the right side of the trade. The catch is that, at least to my eye, yesterday's inflation report was not all that surprising.
The Consumer Price Index's core measure (which excludes food and energy) has increased by 4.0% over the past 12 months. Yes, that's down from the prior reading of 4.1%, but as you can see in the chart below, core inflation has been trending lower for the past year.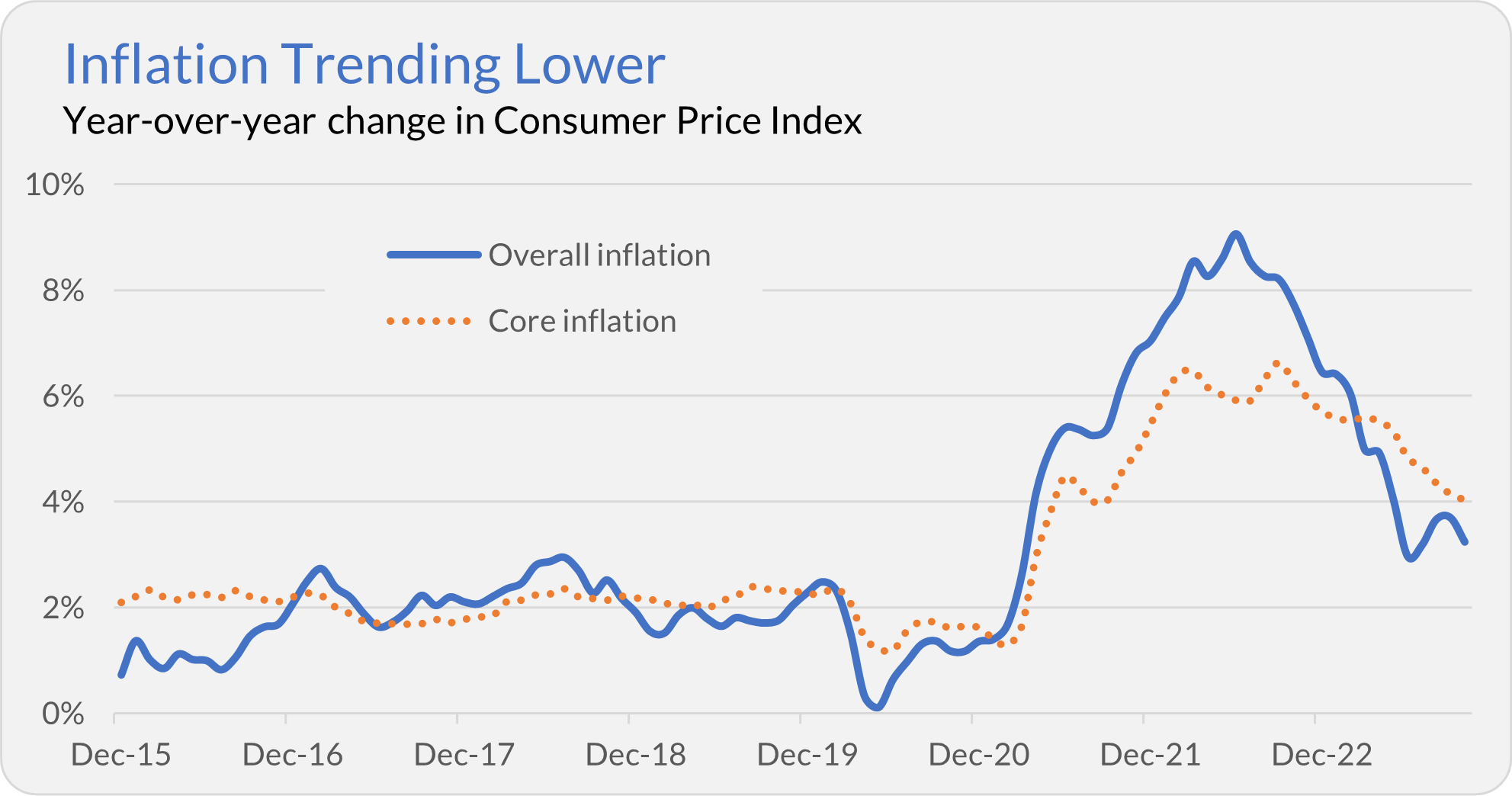 If you had told me beforehand that core CPI would clock in at 4.0%, I wouldn't have expected stocks to rally 2% on the day. Fortunately, as a long-term investor, I don't have to worry about correctly trading every economic data release.
Closing Another Door
Vanguard continues to scale back its overseas expansion efforts.
Most recently, Ignites reported that Vanguard is shutting its direct investing platform, Vanguard Invest, in Germany. While Vanguard is in the process of exiting China, I don't see that happening here—Vanguard manages over $30 billion of client assets in Germany. That's a lot to walk away from! Vanguard is only shutting down its Vanguard Invest program, which apparently has "not reached the size necessary for efficient service."
I shared my skepticism about Vanguard's efforts to expand in foreign markets with Premium Members here.
Dividend Growth's Stable NAV
A few eagle-eyed subscribers asked, "Did Dividend Growth (VDIGX) really close at $35.06 for four straight days—between November 3 and November 8?"
Yes. It did. Those few days in the market were relatively calm, particularly for dividend-growth stocks. Vanguard confirmed that while there were changes to the outstanding shares and total assets invested in the fund, it closed with the same rounded-to-two-decimal NAV at the end of each trading day.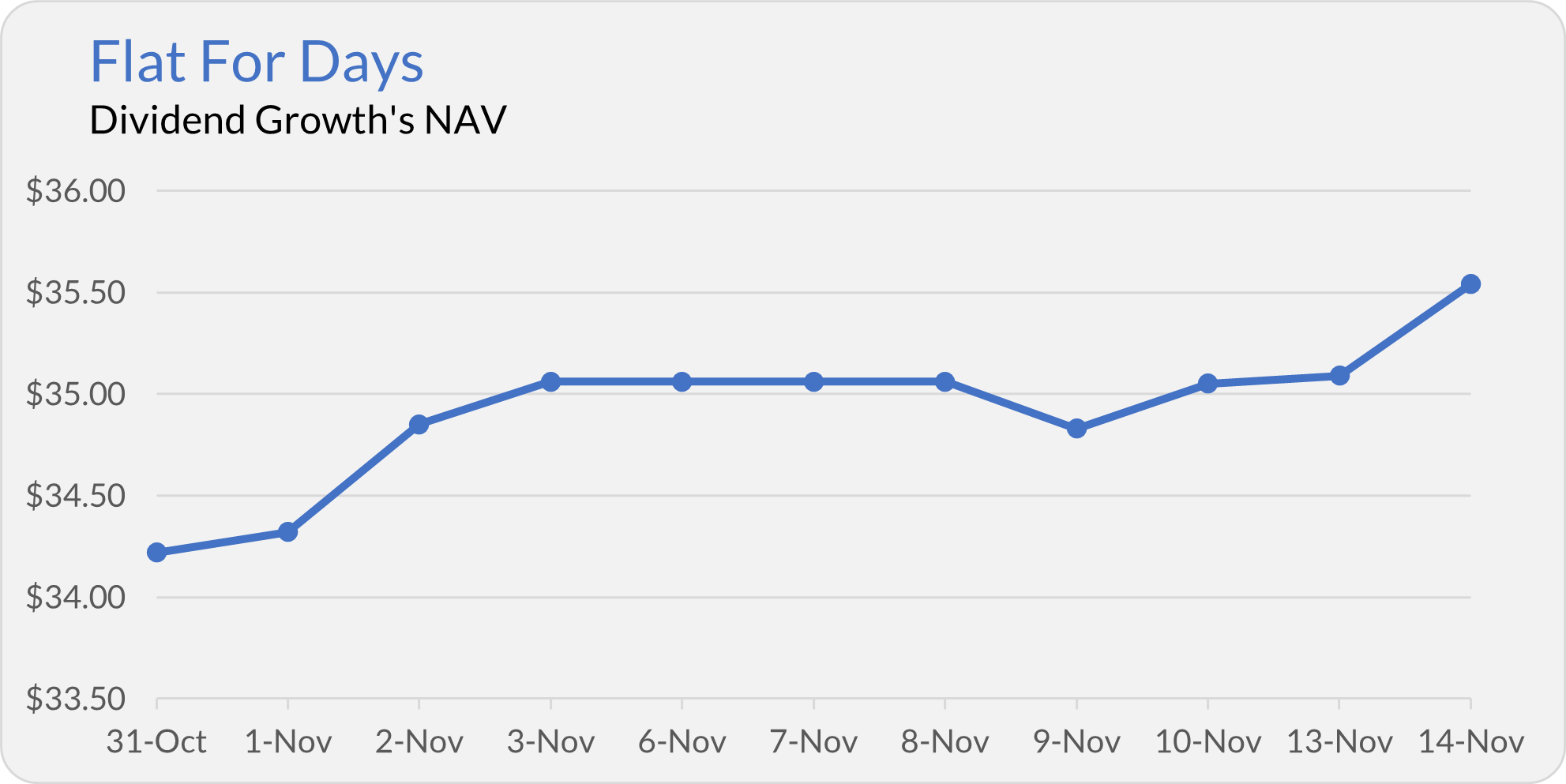 Our Portfolios
Our Portfolios are showing positive returns for the year through Tuesday. The Aggressive Portfolio is up 7.3%, the Aggressive ETF Portfolio is up 9.8%, the Growth Portfolio is up 6.7%, the Moderate Portfolio is up 4.6% and the Conservative Portfolio is up 3.7%.
This compares to a 17.5% gain for Total Stock Market Index (VTSAX), a 7.8% return for Total International Stock Index (VTIAX), and a 0.6% gain for Total Bond Market Index (VBTLX). Vanguard's most aggressive multi-index fund, Target Retirement 2070 (VSNVX), is up 12.4% for the year, and its most conservative, LifeStrategy Income (VASIX), is up 4.0%.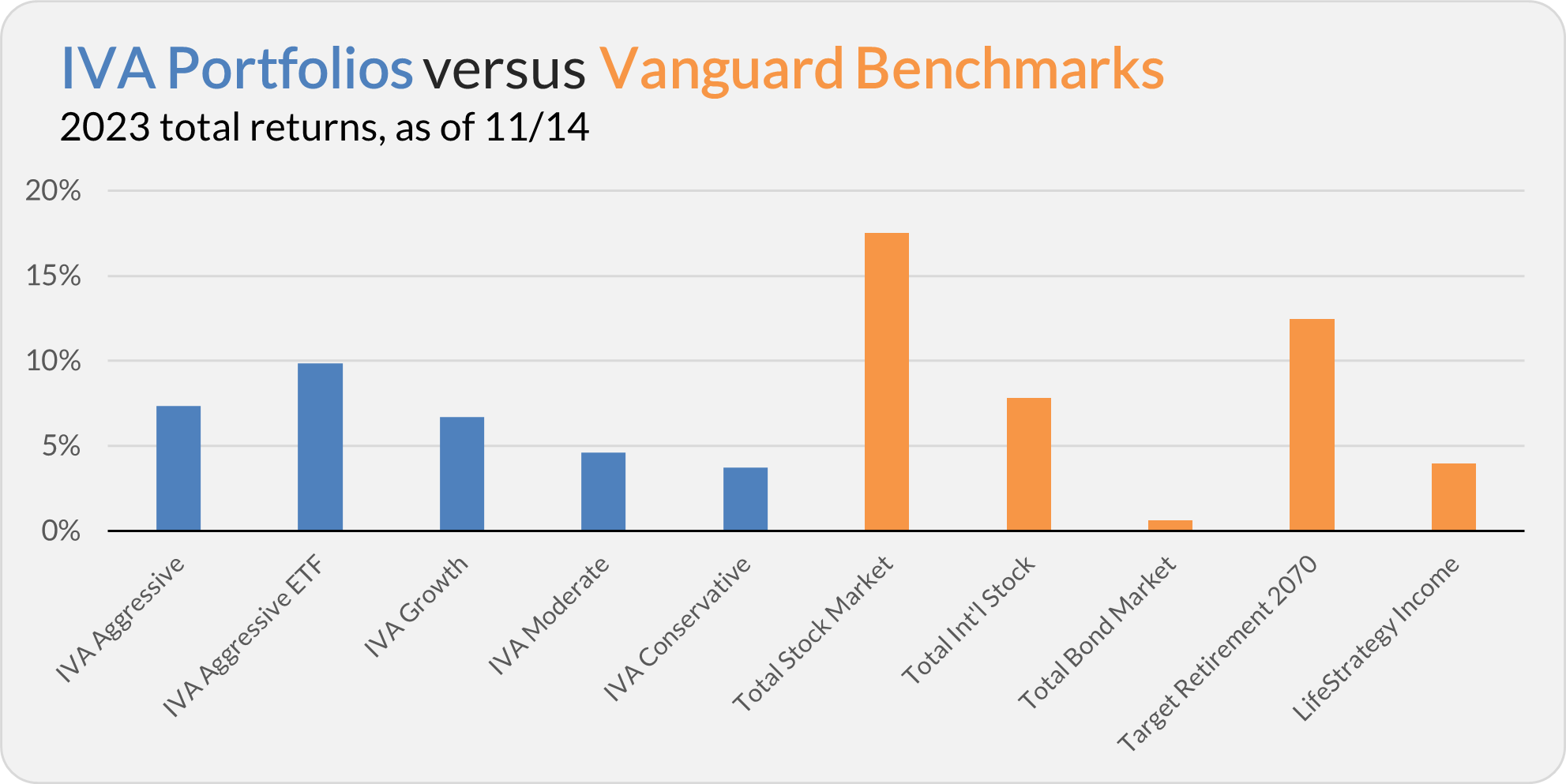 IVA Research
Yesterday, in A Mild Distribution Season, I gave Premium Members all the information they need to confidently navigate the upcoming capital gains distribution season.
Until my next IVA Weekly Brief, this is Jeff DeMaso wishing you a safe, sound and prosperous investment future.
---
Still waiting to become a Premium Member? Want to hear from us more often, go deeper into Vanguard, get our take on individual Vanguard funds, access our Portfolios and Trade Alerts, and more? Start a free 30-day trial now.